Blog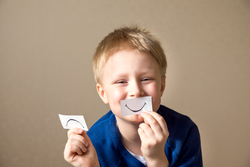 Importance of Personality Development Training for Kid
Personality is the distinctive characteristic trait of an individual that distinguishes them from others. The process of development of an individual's personality starts in early childhood, and involves developing the attitude and behaviour of the person. Someone's personality can be determined based on the person's character, environment, and temperament.  
Temperament can be referred to as the set of traits in a child that are determined by genetics. On the other hand, the adaptive pattern related to the surroundings of a child is the environment.  Finally, the character of a child is the set of behavioural, cognitive, and emotional patterns responsible for shaping up his or her personality. 
All of us want our children to develop into strong and confident individuals. Proper personality development training for kids plays an extremely important role in determining their professional success as well as overall attitude towards life. Along with academic achievements, a well-rounded personality helps a child to stand out from others. In order to flourish personally and professionally, today's children must be confident enough to face the challenges of life. This is why it is important to start developing their personalities from a very tender age.  
Some of the most important benefits of personality development for a child are discussed below.  
Self Awareness:  
Personality development helps children figure out their strengths and weaknesses. Achieving personal growth is extremely difficult without this self-assessment and self-awareness.  
Self-awareness allows children to  
Improve their propensities and practices

 

Investigate the qualities and attributes of their characters

 

Understand their needs from life and discover ways to achieve them

 

Set personalised objectives based on personal experiences  

 
Self-confidence:  
It has been observed that a child low on confidence is reluctant to try out new things because of fear of failures. On the other hand, a strong and confident personality can make a child winner in all races. A confident child is more likely to overcome the hurdles of life with ease. Therefore, if your child has a strong personality, he or she will find it much easier to achieve important milestones in life.  
Communication Skills:  
Communication plays a pivotal role in the character every individual. It allows us to convey our thoughts and feelings to others in an appropriate manner. With right communication skills, it is much easier to send across our message accurately and decisively.  Great communication skills also improve our ability to persuade others. Personality development from an early age is one of the best ways to help your child become a good communicator.  
Positive Attitude:  
We can turn our children into positive individuals by acknowledging their emotions such as anxiety, happiness, fear, shame, sadness, etc. Right from their childhood, we must teach them to look at things positively and accept these emotions.  
To help children overcome problems in the future, they must be taught about caring, sharing, and compassion. Also, introduce them to the concepts of teamwork and collaboration because this will help them combat life's most challenging situations with a positive mindset.    
These were just a few of many advantages of personality development from a young age. If you have more questions about your nurturing your child's personality, please contact our expert educators at Valley Heights Preschool Long Day Care Centre.