Blog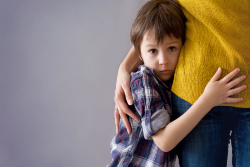 How to Help Preschoolers Overcome Separation Anxiety
Sending a child to a preschool for the first time involves a lot of excitement as well anxiety for kids as well as parents. The situation is no different on a child's first day in a new classroom in his or her old preschool. Many preschoolers enjoy the fun of embarking on a new adventure, but this feeling can be quite scary for some others. As parents, there is lot you can do to help preschoolers overcome separation anxiety.  
Please remember that it is natural for kids to be anxious while leaving their parents and head towards an unknown destination. In fact, separation anxiety is a natural component of the developmental process of a child. In most instances, it begins around the age of one and may pop up multiple times until the next three to four years. It can begin later for some children and they may experience separation anxiety even into elementary school.   
Some common symptoms seen in children struggling with separation anxiety include crying, clinginess, and tantrums. These kids may also display some signs of regressed behaviour. If you are the parent of a child going through this phase, don't worry a lot if your recently potty trained preschooler is suddenly not able to make it to the bathroom on time. This is completely natural because when children deal with a new developmental task, they often temporarily lose ground on areas they have mastered recently. 
If you are preparing your child for preschool, here are a few effective strategies you can try out.  
As parents, there is nothing wrong in worrying about your child transitioning into a new preschool classroom. When it comes to our little ones, it is not easy to trust a new person or even school. However, please remember that this parental ambivalence has an impact on kids. If you hesitate about sending your child to a new environment, it is likely that your kid will also feel unsafe. Therefore, if possible, find out more about the school and teachers well in advance to clear your doubts. 

 

Before the first day, make a plan to bring your child to school a couple of times. This will provide an opportunity for your child to explore everything in the comfort of your presence. Also, don't forget to discuss the typical schedule and the first day routine with the teacher.  

 

Prior to the first day of preschool, create a specific goodbye ritual. This can help ease the anxiety associated with that final goodbye. You can develop a special wave or handshake, or leave notes inside your child's lunch box reminding how much he or she is loved and missed.  

 
As much as possible, always try to send positive signals while dropping off your preschooler. It is understandable that you may feel sad and worried, but you certainly want your child to feel safe in the new environment. Therefore, as you say goodbye, maintain a positive and cheerful body language.   

 
As their first school experience, preschool years can be a lot of fun and provide a great foundation for their development. If you want to find out more about preparing your child for preschool, please contact us at Valley Heights Preschool Long Day Care Centre.